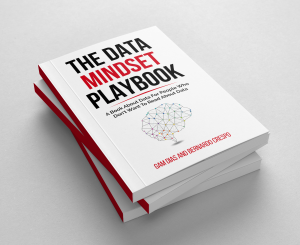 10,000 hours. That's what it takes to be an expert at anything. Art. Sport. Music. And Data. You might not yet have clocked your quota of designing databases, business intelligence applications, reports, or analytics.
But we live in a connected world, so you can gather the expertise you need for any situation by tapping into the people who can collectively claim 10,000 or even 100,000 hours.
The data mindset playbook is an anthology of thought-provoking stories and anecdotes from data experts across geographies and industries. It will give you the lens to clearly see the forest and the trees in your data landscape.
Paperback available on Amazon.com $16.99
About the Authors
Gam and Bernardo both live in Madrid, both teach at IE Business School and are working together on a software application that uses enterprise exhaust data to visualize and streamline business processes.
Bernardo Crespo is an entrepreneur, startup investor and also a venture builder advisor to various data-driven companies. He has also been Academic Director at IE Business School's Digital Transformation Executive Program for the last ten editions of the program. Previously he was Digital Transformation Leader at Merkle Spain and also Head of Digital Marketing at BBVA in Spain where he led a data intensive initiative based on Gamification mechanics that was a case study by prestigious technology firms such as Gartner and Forrester. He studied the last year of his undergraduate degree in Business Administration at the University of St Andrews in Scotland, graduated from UCLM in Spain as BBA, and is also a certified ontological coach by Newfield Network. Bernardo lives in Spain, where he has been recognized as one of the top 50 influencers in Digital Transformation by Expansión newspaper in 2016.
Gam Dias is a partner at UK-based Digital Transformation consultancy, 3PointsDIGITAL where he helps organizations understand and leverage data as a corporate asset. He teaches Data Strategy at IE Business School in Madrid and previously co-founded the ecommerce consultancy First Retail in Silicon Valley. He began his career in the UK as a Management Information Systems developer, he went on to become a product manager for BI and Analytics vendor Hyperion, and he managed the product and research team for a text analytics startup. As a consultant, he has helped write the data strategy for Fortune Global 500 companies, innovative startups, and ambitious non-profits. He has a degree in Computer Science from the University of Liverpool and an MBA from Warwick Business School. Gam has lived in London, Leeds, Salt Lake City, Santa Cruz, San Francisco, and he currently lives in and works from Madrid, Spain.